Dual Pot Electric Slow Cooker Food Warmer & Buffet Warming Server
What could be more convenient than to cook and serve two dishes in the same pot? This NutriChef Slow Cooker and Food Warmer looks more like a buffet warming server but you will be able to cook, bake and broil your food in these stain-resistant pots. Perfect for any occasion from a meal for one or two to a large family gathering or a party.
Simple prep & serve for any occasion

Ability to cook, bake & boil

Compact, quick & convenient

Ceramic stain-resistant cooking pots

Independent temperature zone settings

2 integrated cooking bowls & 2 glass lid covers

Lightweight, compact & portable

Safe for any countertop, tabletop, kitchen top

Ultra-quiet operation

LED indicator lights

Dim: 22.6"L x 10.2"W x 8.7"H

3ft power cord
Model: AZPKBFWM26
Brand: NutriChef
MSRP: $175.99
Warranty: 1 year
In the Box
Slow cooker
2 x Glass Lid
2 x Ceramic Cooking Pot
Instruction Manual
Features
Multiple heat settings in order to cook, reheat or keep food warm for a period of time.
Using the Temperature Dial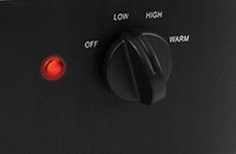 The slow cooker has been developed with a wrap-around side element concealed in the unit. This element provides low, even temperatures giving a longer cooking time.
This method of cooking ensures the food does not stick to the base of the ceramic pot. As the food cooks just below boiling point, very little steam escapes, which gives the food tender and moist results.
Low Setting
The low heat setting simmers food for a longer period of time without over cooking or burning. No stirring is required when using this setting, which is ideal for vegetable dishes and re-heating.
High Setting
The high setting is used when baking or cooking food (in half the time of the low setting). As food may boil when cooked on the high heat setting, it may be necessary to add extra liquid depending on the recipe and the amount of time in which it is being cooked. Occasional stirring of stews and casseroles will improve the distribution of flavors.
Note: Food should be monitored when using the high heat setting.
Warm Setting
The warm setting is recommended for keeping cooked food at the perfect temperature until ready to serve. This setting should not be used to cook food.
Basic Guide to Slow Cooking
As most food cooked in the slow cooker, the food you are preparing can be cooked over a period of 6-9 hours. The prepared food can simply be placed in the cooking pot in the slow cooker and switched on.
Always allow sufficient time for the food to cook. It is almost impossible to overcook in the slow cooker; particularly when using the low heat setting.
Adapting Cooking Times
Your favorite recipes can easily be adapted for slow cooking by halving the amount of liquid and increasing the cooking time.
See the following guide for suggested cooking times and settings:
| | |
| --- | --- |
| Traditional Recipe Time | Slow cooker Recipe Time |
| 15-30 minutes | 4-6 hours on Low Heat |
| 60 minutes | 6-8 hours on Low Heat |
| 1-3 hours | 8-12 hours on Low Heat |
Note: These times are approximate and can vary depending on the ingredients and quantities in each recipe.